As England's cricket team sets off for Sri Lanka, Channel 4 News Foreign Editor Ben De Pear asks whether the tour should be going ahead given the country's human rights record?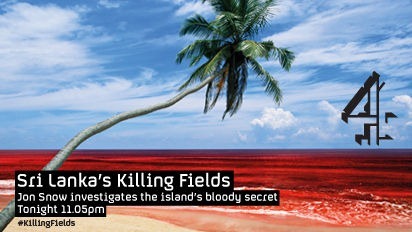 Andy Flower has departed for Sri Lanka today as manager of an England team reeling after a test whitewash in the UAE to Pakistan and nervous about playing on yet more slow and turning pitches.
However events off the pitch could be even trickier to handle. Sri Lanka's cricket board is allegedly ridden by corruption, and the grounds England will play on are now run by a military that Amnesty International, Human Rights Watch, the United Nations and the US State Department say should be investigated for allegations of perhaps the most serious war crimes and crimes against humanity committed this century.
With the upcoming broadcast of "Sri Lanka's Killing Fields; War Crimes Unpunished", the follow up to the award winning "Sri Lanka's Killing Fields" film made by ITN Productions for Channel 4 last year, on Wednesday, and a move by the US to push for a UN war crimes investigation, the England tour comes at a hugely controversial time. Andy Flower admitted he had seen the first film and had been shocked by it as Foreign Affairs Correspondent Jonathan Miller gave him a copy of the new film at the team's Heathrow press conference this morning.
As Zimbabwe's star batsmen at the 2003 world cup Andy Flower, along with team mate Henry Olonga bravely and famously wore a black armband to protest against what they saw as the death of democracy in Zimbabwe.
It was a symbolic stand made at the Harare sports club quite literally in front of Robert Mugabe whose Presidential residence State House faces the ground. It earned him and Olonga forced retirement from the sport, and ended Flower's international career when he was arguably the best batsman in the world and certainly the best player of spin.
This morning when asked by Jonathan Miller about how he felt about touring a country with an appalling human rights record he was straight forward: "As I understand it, those investigations by the UN are still on-going, it is certainly not my position here to take a political stance.
"I know yours is a human rights question, but it's my position here not to take a political stance.
"I understand to a certain extent the history of Sri Lanka's troubles and have much sympathy with both sides. However we are going to Sri Lanka to play cricket and we will be limiting our focus to that."
As the Zimbabwean manager of the England cricket team, Andy Flower could rightfully say it is not his place to discuss Sri Lankan politics or human rights.
However as a man who made a brave and principled stand he is unlikely not to think long and hard about this issue, and whether England should be touring Sri Lanka at this time. In November the Sri Lankan military took over the running of all three of Sri Lanka's cricket stadia after the country's heavily indebted cricket board said it could no longer afford to do so.
As for the ECB a year after Flower's protest, England refused to tour Zimbabwe after British journalists were banned from entering by the Mugabe regime. After a 48-hour stand off in Johannesburg, the Zimbabwean authorities relented, and the team entered along with the journalists.
The players were perturbed by the stand-off and what they were hearing about what was happening in the country. As one of the banned journalists I remember quietly briefing some of the players in their Johannesburg hotel about what I had seen in Zimbabwe. Like all athletes, they did not want to get mixed up in politics and looked to the management for leadership and decisions, but they were distinctly uneasy about touring a country with an appalling human rights record. This morning they seemed perturbed again when questioned by Jonathan Miller about the allegations of war crimes in Sri Lanka.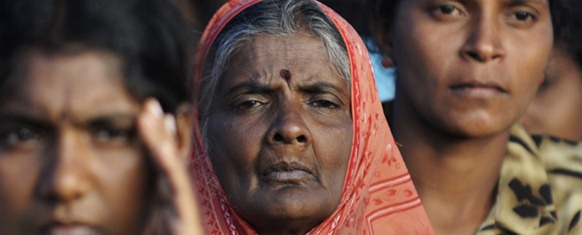 Sri Lanka's war lasted 30 years but came to a bloody conclusion in a tiny spit of land in the country's north-east in 2009.
The UN estimates at least 40,000 people, mostly civilians were killed in a matter of weeks. The Sri Lankan military effectively sealed off the north east of the country as it sought to destroy the Tamil Tigers of Ealam, a rebel army which had sought independence for Tamils but terrorised the country in the process, pioneering the use of suicide bombers and child soldiers.
The Tamil people however paid a very high price for this; as the Sri Lankan military tightened its grip around the tigers, up to 300,000 civilians were trapped in the area the government named the "no fire zone", which was anything but. Videos and footage broadcast by Channel 4 News which became the basis for the award winning Sri Lanka's Killing Fields showed horrific scenes of field hospitals shelled, civilians seeking cover under trees, and a number of executions of bound and blindfolded prisoners.
At Channel 4 News we have not applied for accreditation for the England cricket tour of Sri Lanka. Since May 2009 when our crew was deported from the country we have not been allowed in and the government has repeatedly criticised the footage and stories we have broadcast as "lies", "faked" and appalling journalism, despite repeated UN reports backing our findings and calling for proper investigations.
(For updates you can share with your friends, follow TNN on Facebook and Twitter )