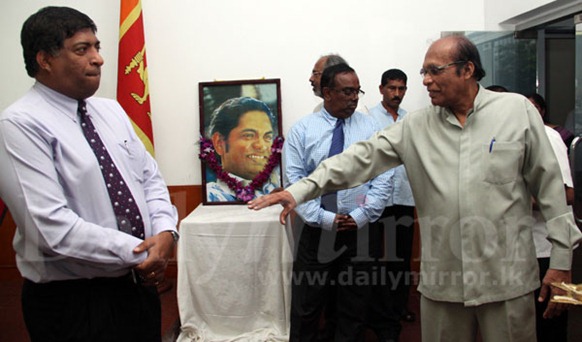 Sri Lanka should foster diplomatic relations with Tamil Nadu than with New Delhi given its importance to country's national interests, a senior Minister said yesterday.
Senior Minister D.E.W. Gunasekera, who delivered the Memorial Lecture for late Minister Lalith Athulathmudali in Colombo yesterday, said that no government either past or present had understood the importance of developing a sound relationship with Tamil Nadu. He pointed out that no Tamil Nadu Chief Minister had visited Sri Lanka since independence while no ministerial team from Sri Lanka had visited the South Indian state to date.
Minister Gunasekera said that Sri Lanka had failed to realize that the people of the north had several things in common with the people of Tamil Nadu including their language and culture. He also highlighted the fact that there was a geographical closeness to consider as well with Tamil Nadu being only 20 miles away from Jaffna. Besides all of this he said that Sri Lanka cannot afford to ignore its neighbor given the realities of globalization.
Minister Gunasekera, who paid a gloving tribute to the late Minister Athulathmudali, recalled how he (Mr. Athulathmudali) had acted diplomatically when India decided to send relief to Jaffna by air. He recalled that it was Mr. Athulathmudali who drafted a reply to the letter sent by the Indian Prime Minister at the time, Rajiv Gandhi, who in a letter to the then Sri Lankan President late J. R. Jayewardene warned him that Indian had decided to drop food items to the North by air. He said the Mr. Athulathmudali had pioneered a relief programme to Jaffna together with ICRC but could not implement it at that time due to the anti Indian sentiments voiced by some politicians at the time. He also recalled that the then UNP government worked with the opposition to overcome this challenge. (Yohan Perera)
(For updates you can share with your friends, follow TNN on Facebook and Twitter )