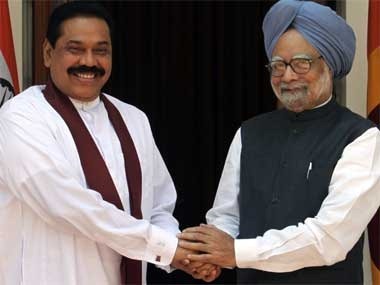 Sri Lanka's mainstream Tamil party TNA is keen to revive its stalled talks with the government but wants progress in bilateral dialogue before joining the multi-party deliberations over charting out a political solution to the ethnic issue.
The talks between the Tamil party and the government over devolution of powers to the Tamil-dominated provinces have been stalled since January over differences, the main being its demand for giving police powers to the provinces.
Following the stand-off, the Mahinda Rajapaksa-led government decided to take the issue to a parliamentary select committee against TNA's wishes.
The TNA now says it wants its stalled talks with the government revived soon but wants progress before they could attend the select committee.
"We have told the government that we want progress at the bilateral talks before multilateral talks could begin," Suresh Premachandran, a senior TNA parliamentarian told PTI today.
Premachandran's "multilateral talks" was a response to the idea of a parliamentary select committee (PSC) mooted by Rajapaksa.
The TNA-government talks that kicked off last year have made only a limited progress.
The TNA has expressed its reluctance to attend the PSC and believes it was another stalling tactic by the government.
President Rajapaksa's government, with its unwillingness to attach the sole representatives label on the TNA, would rather like to resolve the issue through the PSC process.
The government regards PSC as an inclusive approach where all stakeholders would have the ownership of a final solution.
However, the TNA has doubts about what stand the hardline nationalist parties in the ruling coalition would take in the parliament select committee, and whether they would help in trying to achieve anything meaningful for the Tamil minority.
Last week, the main Muslim party leader and minister of justice, Rauff Hakeem held talks with the TNA leader Rajavayothi Sampanthan to try and persuade TNA to attend the PSC.
TNA sources said the party's stand on the PSC was made clear to the Muslim Congress leader.
(For updates you can share with your friends, follow TNN on Facebook and Twitter )