Commenting on the recent sentencing of Charles Taylor by the UN's Special Court for Sierra Leone (SC-SL) for 50 years and the ruling by the UN's International Criminal Tribunal for Rwanda (ICTR) giving life imprisonment to Rwanda's Nzabonimana, Professor Boyle, an expert in International Law, who teaches at the University of Illinois College of Law, told TamilNet, that UN's "International Criminal Court (ICC) has become a joke and a fraud. I supported it originally. But no more. It has no credibility whatsoever. It [ICC] just goes after tin-pot dictators in Africa while real war criminals such as Bush…get off scot-free… I am keeping Rajapaksas et al on my list of things to do," Boyle said.
Tamil circles, while not disagreeing with this harsh assessment of the U.N., say that the sheer weight of Sri Lanka's brutality amounting to genocide will ultimately force the UN to take action against the ruling Rajapaksa family and Sri Lanka, if the diaspora and the rights organizations are successful in keeping the memory of the Mu'l'livaaykkaal massacre alive.
PDF: SC-SL Decision on Charles Taylor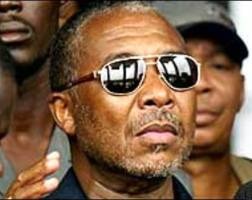 Charles Taylor, former President of Liberia
Judge Lussick, an Australian-born Samoan, and two other judges calling the crimes committed by Charles Taylor, the former president of Liberia, in the neighbouring country of Sierra Leone as "some of the most heinous and brutal crimes recorded in human history," sentenced the 64-year old Taylor that will exceed his life span.
Abetting mass murder, rape and amputation is a truly extraordinary crime deserving an extraordinary punishment, and the court took the position that Mr. Taylor's status as a head of state at the time of the offences was an aggravating factor; a public trust had been betrayed, said Canada's Globe and Mail.
"Any head of state or government should take pause before authorizing aid to armed factions in civil wars which may turn out to be viciously barbarous. Presidents and prime ministers should long remember Charles Taylor," the paper warned.
PDF: ICTR Decision on Nzabonimana
Meanwhile, within a week after the Taylor judgement, the International Criminal Tribunal for Rwanda (ICTR) found former Rwandan youth minister Callixte Nzabonimana guilty of playing a key role in the genocide, conspiracy, incitement and extermination of nearly 800,000 minority Tutsis and politically moderate Hutus in 100 days between April and June 1994.
A meeting held in the town of Murambi, in the central Gitarama province led to "an agreement" between Nzabonimana and other ministers "to encourage the killing of Tutsis… with the specific intent to destroy, in whole or in part, the Tutsi population as such in Gitarama prefecture," the AFP said referring to the court's verdict.
(For updates you can share with your friends, follow TNN on Facebook and Twitter )