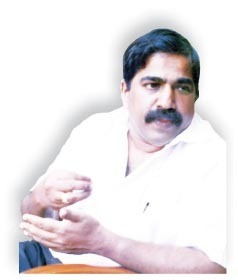 The Tamil National Alliance (TNA) has had an urgent meeting with officials from Foreign Missions in Colombo after it was revealed that several Tamil prisoners in Vavuniya were abused, beaten and mistreated following the recent hostage drama.
TNA MP Suresh Premachandran said that during the meeting held on Thursday evening, the officials from the Foreign Missions were briefed on the plight of the Tamil political prisoners including  22 of them who were injured following the attempt by the police to rescue three jailors.
Premachandran said that he had met the prisoners who had been transferred out of the Vavuniya prison following the incident on June 28 and are now at the Mahara prison and some of them claim to have been abused.
"We briefed the Foreign Mission officials on the inhuman manner in which these prisoners are being treated. The government is trying to mislead the public by saying that these prisoners are working with the support of some people overseas. All that is rubbish," Premachandran said.
He said that some of the prisoners he had spoken to had claimed that they were beaten on the head, some had their legs broken and that there are even those who were assaulted while they were unconscious following the Vavuniya prison incident.
A group of prisoners at the Vavuniya prison took three jail guards hostage on June 28 after three LTTE suspects were transferred out of the prison.
After a standoff which lasted for several hours the police and Special Task Force (STF) fired teargas and made their way into the prison and rescued the jail guards.
The Vavuniya prison was later closed and all the prisoners were transferred to Anuradhapura and a few other prisons.
One prisoner who was injured during the incident succumbed to his injuries while receiving treatment in hospital. Premachandran said that at least one other risoner is in critical condition.
The TNA MP claims that top officials at the Anuradhapura prison had sanctioned the abuse of the Tamil prisoners who were transferred there.
(For updates you can share with your friends, follow TNN on Facebook and Twitter )