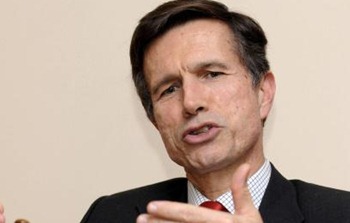 Visiting US Assistant Secretary of State, Robert Blake today called on the Sri Lanka government to reduce the presence of military in North and accelerate implementation of LLRC action plan.
Addressing a press conference in Colombo a short while ago, Mr. Blake said that during his meeting with President Mahinda Rajapaksa, he has promised to hold the election in the north by December 2013. "But I hope that the election could be held sooner," he told the reporters.
He also expressed his disappointment over the lack of talks between the government and the Tamil National Alliance. (Dianne Silva)
Statement by U.S. Assistant Secretary of State
Great to be back in Sri Lanka.  I have had a wide-ranging and productive series of meetings with political leaders, business community leaders and members of civil society.  Before I go further, let me take the opportunity to welcome the arrival of our new Ambassador Michele Sison.  She only arrived last week, but comes ready to serve the United States as one of our most experienced career diplomats and experts in South Asian affairs.  I know Sri Lankans will extend her the same warm welcome and hospitality you extended me throughout my stay in Sri Lanka.
The United States has had a long and productive partnership with Sri Lanka.  We have provided over $2 billion in assistance and have an important economic relationship – the United States is the largest single export destination for Sri Lankan goods.  And we have a strong partnership in counterterrorism and maritime security.  We have also worked closely together on issues such as demining and support for the IDPs.
I had positive meetings with the Minister of External Affairs Peiris, Minister de Silva, Minister Samarasinghe, Secretary to the President Weeratunga, Defense Secretary Rajapaksa, leaders of the TNA, and civil society. 
I discussed in all our meetings the need for accelerated progress to implement the recommendations of the Lessons Learned and Reconciliation Commission (LLRC) and the National Action Plan.  I emphasized the importance of progress in reducing the role and profile of the military in the North, and full respect for human rights.
On issues of accountability, it is our hope that three years after the end of the conflict, there can be a credible and transparent accounting, investigation and prosecution of some of the outstanding and serious allegations of human rights violations, as well as progress on the missing. I also urged that the Northern Provincial Council elections be held as soon as possible and encouraged an early resumption of talks between the TNA and the government to agree on powers to be devolved to the provinces.
On the economic front, I am pleased that the American Chamber of Commerce will be hosting a trade fair to celebrate its 20th anniversary.  I met with members of the AmCham at a lunch earlier today to discuss both the opportunities in sectors such as tourism and information technology, and the challenges that need to be overcome for Sri Lanka to attract greater investment.
On a related note of partnership, I wanted to pay special recognition to the fact that the U.S.-Sri Lankan Fulbright Commission is celebrating its 60th Anniversary.  Thanks to this program, nearly 650 Sri Lankan students have gone to the United States, while Sri Lanka has hosted over 380 Americans as researchers, teachers, and students.
This powerful legacy has touched generations in both of our countries and made both of our societies stronger as a result.  We are so pleased to be continuing this important bilateral cooperation and I also wanted to thank and commend Fulbright executive director Tissa Jayatilaka for his leadership of the Fulbright Commission for more than two decades.
Our hope remains that all Sri Lankans will be able to enjoy the same rights and dignity, and share a democratic, secure, and prosperous future.
(For updates you can share with your friends, follow TNN on Facebook and Twitter )