Concluding the three day global conference organized by the BTF and APPGT, politicians and civil society activists from the island and Tamil Nadu participated in an interactive session with an Eezham Tamil diaspora audience in London, on Friday. This event follows a meeting among the Tamil delegates in the British parliament on Thursday, where they had arrived at a consensus on the resolutions proposed on the day before calling for an independent international investigation into the genocidal war crimes of the Sri Lankan state.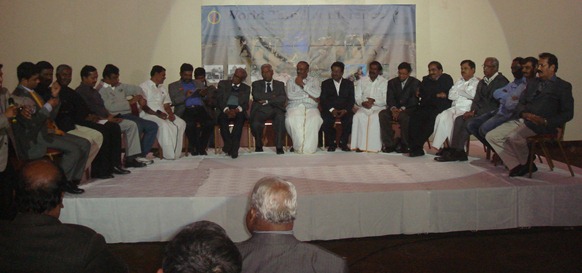 The organizers of the conference expressed their condolences to Nadarajah Mathinthiran alias Parithi, a political organizer with the Tamil Coordinating Committee in France, who was assassinated in Paris on Thursday.
Pragasen Padayachi an activist working with solidarity groups in South Africa, said that the SA government and the ANC were giving mixed signals on the question of the Tamils. Calling the LLRC a joke, he opined that Tamils need to figure out the path forward.
Claiming that the talk of resettlement, rehabilitation and reconciliation is a farce in unitary Sri Lanka, Thirumurugan Gandhi from the May 17 Movement asked why the world powers that used one standard for South Sudan why not for Tamil Eelam. He also said that an international peace force not involving India, China, Pakistan and the USA should be deployed in Sri Lanka.
Saravanan from Save Tamils said that his organization would involve other youth organizations in India on the resolutions.
D. Raja and D Pandian from the CPI restated the commitment of their party to the democratic demands of the Eezham Tamils, Mr. Krishnaswamy from the Puthiya Tamizhagam party told the audience that he would take the resolution to the Tamil Nadu assembly.
Viduthalai Rajendran opined it was very important at the moment to understand the nuances of world politics and to make political moves accordingly.
TNA MPs Sritharan and Suresh Premachandran talked about the repression that the Tamils faced in the island. Mr. Premachandran was of the opinion that as much as Washington and London were important, Delhi was more important to the Eezham Tamils. Mavai Senathirajah of the TNA was also present in the meeting and responded to the questions raised by the participants.
(For updates you can share with your friends, follow TNN on Facebook and Twitter )