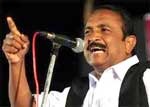 Marumalarchi Dravida Munnetra Kazhagam (MDMK) has announced that it would release videos and pamphlets in multiple languages highlighting alleged atrocities committed on Sri Lankan Tamils by their government during the civil war in that country.
The MDMK's plan was outlined by its chief Vaiko during a news conference here yesterday.
"To create an awareness on what happened in the Sri Lankan Island, the genocide of Sri Lankan Tamils we are taking all possible efforts. Therefore, we are bringing out DVD's and cassettes exposing the crime of genocide committed by the racist government," Vaiko said.
He further said the MDMK would approach commoners, public figures and politicians for their support.
"We are bringing out, in all languages, pamphlets and booklets to create awareness in the minds of people and also to get the support of all the political parties in India," he said.
The United Nations failed to call proper attention to the plight of hundreds of thousands of Sri Lankan civilians during the bloody final stage of the government's war against Tamil Tiger rebels, according to a UN report released in November last year.
A previous UN report on the war, which ended with the LTTE's (Liberation Tigers of Tamil Elam) defeat in May 2009, said that as many as 40,000 civilians were killed in the last months of the conflict after they were trapped on a narrow strip of coast in north-eastern Sri Lanka, caught up in the crossfire between the LTTE and the army.
The 128-page report, which focuses on the United Nations' performance during the war, cited the earlier report's casualty estimate and government statements that fewer than 10,000 civilians died. It added that some sources cited credible information that over 70,000 were 'unaccounted for'. (ANI)
(For updates you can share with your friends, follow TNN on Facebook and Twitter )