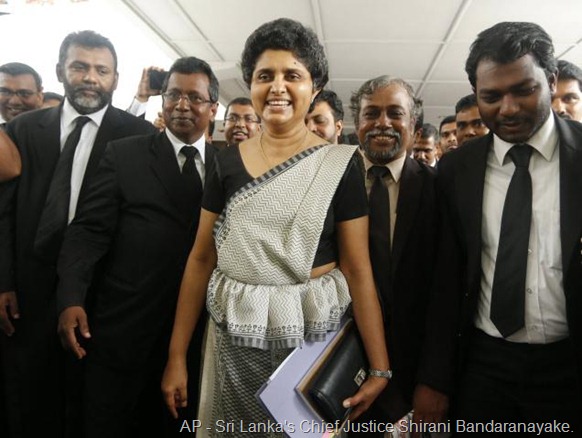 With the Sri Lankan Supreme Court determining on Thursday that a Parliamentary Select Committee (PSC) had "no legal authority" to declare guilty or pronounce a decision affecting the rights of the judge, the impeachment proceedings against Chief Justice Shirani Bandaranayake has set the stage for a legislature versus judiciary tussle.
Earlier, the Court of appeal, which was hearing the case, had turned to the Supreme Court for an interpretation of the Constitution. As per the Sri Lankan Constitution, Supreme Court is the sole and exclusive authority for interpretation of the Constitution.
The Apex Court, pointing to obvious flaws in the PSC process, made a far-reaching, and clear-cut order on the right of the defendant: "The right of the Judge under investigation to appear at the investigation and be heard being a fundamental principle of natural justice should also be provided by law with a clear indication of the scope of "the right to be heard" such as the right to cross examine witnesses, to call witness and adduce evidence, both oral and documentary."
Proceedings void
Reading out the determination, the Court of Appeal said: "The proceedings that commenced before PSC is not contemplated by law and the commencement of proceeding and continuance is prima facie void."
The PSC, which had probed allegations of corruption against Ms. Justice Bandaranayake, found her guilty and had submitted its findings to Speaker Chamal Rajapaksa in December. Parliament is slated to take up a debate on the impeachment from January 8. A civil society activist, Chandra Jayaratne, had approached the courts over the issue. The court had subsequently served notices on all PSC members. The Speaker said members of the PSC, constituted in November to probe the allegations against the Chief Justice, need not heed the notice of the Court of Appeal. All ruling party members and members of the main opposition party, the UNP, stayed away from the court proceedings. Two other opposition parties, TNA and JVP, submitted themselves to court proceedings.
(For updates you can share with your friends, follow TNN on Facebook and Twitter )