Balakrishnan Koculan, a 29 year old Eezham Tamil youth activist, was elected to represent the official youth wing of the German Die Linke party on Sunday. In the 6th Federal Congress of the Left Youth -Die Linksjugend [`solid] held at Magdeburg in Germany, Mr. Koculan along with seven other activists were elected by 200 delegates of the youth organization from across several states in Germany, with Koculan getting 52.63% of votes. Speaking to TamilNet, Mr. Koculan urged Tamil youth in the diaspora to challenge the unjust approach of the global establishments towards the Eezham Tamils' struggle, stressing the necessity of building alliances with progressive forces.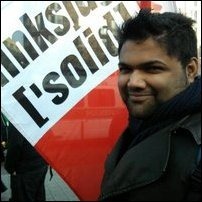 "Our youth in the diaspora do not face the brutal repression that the Eezham Tamil youth in the homeland face and have greater space for freely expressing their opinions. They should keep in mind that the actors in the western establishments that contributed to Sri Lanka's genocidal war on our liberation struggle cannot be trusted," Mr. Koculan said.
"The youth should identify those progressive forces that stand with our liberation struggle on principled grounds and build bridges with them," he further added.
Mr. Koculan, currently a student at Heinrich-Hertz-Europakolleg, is an Eezham Tamil youth activist who is well known among grassroots community circles in Germany. He has also worked towards building solidarity with leftist groups and other oppressed nations.
The parent party of the Die Linksjugend [`solid], Die Linke, has 76 seats at the German federal parliament and eight members in the European Parliament. The Left is a member of the Party of the European Left and is the largest party in the European United Left–Nordic Green Left grouping in the European Parliament.
(For updates you can share with your friends, follow TNN on Facebook and Twitter )