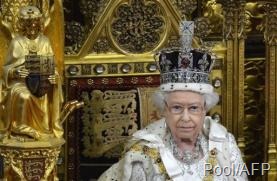 The decision by Britain's Queen Elizabeth II not to attend a Commonwealth summit later this year in Sri Lanka is related to the island nation's poor human rights record, the main opposition said Wednesday.
The November meeting has been mired in controversy, with Canada threatening to stay away unless Colombo investigates suspected war crimes committed by its troops in 2009.
United National Party (UNP) spokesman Ravi Karunanayake said the queen might have attended the summit "if we didn't have these governance and human rights issues".
"The queen has sent a strong political message. The message is improve your (rights) record," UNP's Karunanayake told AFP. "There are lots of other governance issues too that must be addressed."
Buckingham Palace, in a statement Tuesday, said the queen would be represented at the November 15-17 Commonwealth heads of government meeting by the Prince of Wales.
A palace source said the decision was unrelated to the controversy over Sri Lanka's human rights record.
The 87-year-old monarch's decision to stay away is part of a gradual move to cut down her long-distance foreign trips and comes as she hands over some of her duties to younger members of the royal family.
There had been a question over British Prime Minister David Cameron's attendance but his office has said he will be make the trip while delivering a "very tough message" that Colombo must make progress on human rights.
Rajapakse's regime faces allegations, which it denies, of indiscriminately killing civilians during the final assault on separatist Tamil Tiger rebels that ended a four-decade civil war.
Sri Lanka's government has said it will "warmly welcome" 64-year-old Prince Charles.
Queen Elizabeth attended the last Commonwealth summit in Australia in 2011 in her role as the symbolic head of the 54-member organisation, which is made up primarily of former British colonies, home to around two billion people.
(For updates you can share with your friends, follow TNN on Facebook and Twitter )