The occupying Sri Lankan military is seizing more lands in Pulmoaddai, a traditional Muslim village in the coast along the border of the Northern and Eastern provinces. In its latest move, the SL military has surveyed 60 acres of lands situated in front of an army camp at 14th Mile Post. Openly claiming that the lands are being taken over for the families of Sri Lankan soldiers under the so-called 'Ranaviru Gammanaya' project, the SL military has deployed its own surveyors without the knowledge of the Department of Civil Survey and the Divisional Secretary of the division, civil sources in Trincomalee told TamilNet.
The Muslims of Pulmoaddai have been protesting against the accelerated land appropriation taking place in their traditional village.
As the civil survey officials were being stopped by the protesting Muslims, Colombo has now deployed 'military land surveyors' to do the work, the sources further said.
The SL military has also deployed several heavy equipments to clear these lands earlier used by Muslim farmers who possess legal documents and permits as owners.
The occupying Colombo, intensely spearheading a Sinhala colonisation programme to wedge the North and East at several strategic locations in the north of Trincomalee district, has already appropriated several hundred acres of paddy lands of Muslims at Arisi-malai and Naaka-malai in Pulmoaddai under the "Buddha Pooja Boomi," scheme to construct new Buddhist Viharas in Pulmoaddai village.
Colombo is also appropriating about five hundred acres of land in Chuvaami-malai area in the traditional Tamil village of Thennai-maravadi, located just north of Pulmoaddai.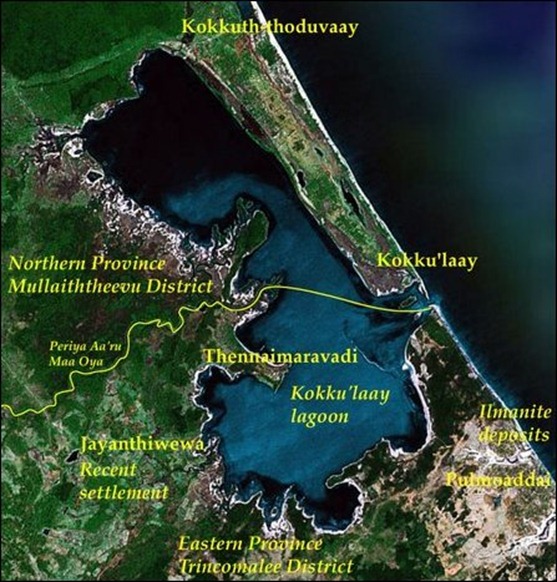 Note the location of Pulmoaddai and Thennai-mvaravadi in the coast along the border of the Northern and Eastern provinces. [Satellite Image Courtesy – Google Earth. Legend by TamilNet]
(For updates you can share with your friends, follow TNN on Facebook and Twitter )