The Chief Editor of Yarl Thinakkural, Mr Atputhananthan, has complained to the regional commissioner of the Sri Lankan Human Rights Commission in Jaffna on Monday that individuals claiming to be from the 'Terrorist Investigation Division' were intimidating two of the journalists in the paper, Mr Punitharuban Vinslow and Mr Tharmabalan Vinojith of the paper. "During the last two weeks the individuals claiming to be from the TID have been visiting this office and trying to collect personal data relating to above named two journalists. In the absence of of any official request and hence the inability to obtain any data, they are now engaged in collecting such information from the localities where they live," the chief editor of Yarl Thinakkural has stated in his letter to the SL HRC.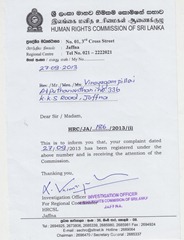 The TID, which earlier functioned from Colombo is now operating district-wise interrogation offices and is engaged in issuing threats to political activists, student leaders, human rights activists and journalists.
Following the Northern Provincial Council elections, the TID operatives in Jaffna and Vanni have threatened activists who campaigned for the Tamil National Alliance (TNA).
The TID has also been targeting human rights activists who met UN Human Rights High Commissioner Navanetham Pillay during her recent visit to North and East.
The TID investigators have recently summoned the new student leaders from the Jaffna University Student Union by issuing unofficial invitations to their district office at Navalar Road and threatened them of abductions if they engaged in remembrance events or protests such as Pongku Thamizh.
The General Secretary of the Tamil National Peoples Front (TNPF) and former parliamentarian Selvarajah Kajendren was also 'invited' for investigations by the TID in Jaffna.
The TID, which operates under the direct command of SL presidential sibling and Defence Secreary Gotabhaya Rajapaksa, is said to have launched a fresh 'counter insurgency' styled operation targeting political activists, rights defenders and journalists.
There have also been reports of violent attacks launched on Tamil youth at Mallaakam where a hand grendae was lobbed at a place where the youth activists gather. The Tamil National Alliance (TNA) parliamentarian Suresh Premachandran has blamed that the SL military and its operatives have launched almost a war against the Tamil youth that rallied behind the TNA during the election campaign.
Yarl Thinakkural's letter to Human Rights Commission of Sri Lanka
TamilNet: 01.10.13 TID operatives harass Thinakkural journalists in Jaffna
(For updates you can share with your friends, follow TNN on Facebook and Twitter )