Putting forward 9 concrete demands, Thoazhar (Comrade) Thiyagu, a veteran Tamil activist from Tamil Nadu, has been on a fast-unto-death campaign since October 01st at Va'l'luvar-koaddam in Chennai in Tamil Nadu. As his campaign entered 6th day on Monday, Thoazhar Thiyagu is determined to take forward the struggle, despite doctors warn him about deteriorating health. The genocidal Sri Lankan State should be suspended from the Commonwealth, the venue for the upcoming CHOGM meet should be shifted away from Sri Lanka and the Indian leaders should not take part if Colombo is to host the meet, are among the top demands of the 9-point list. Prominent activists and leaders of movements and parties have been expressing solidarity with Thoazhar Thiyagu and are accompanying him in observing the fasting campaign.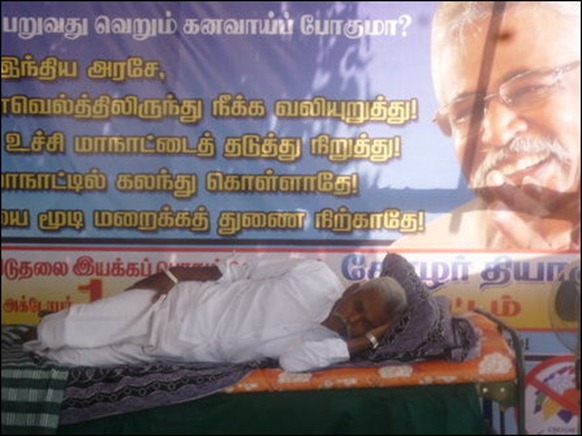 Tamil National Liberation Movement General Secretary Thoazhar Thiyagu on fast-unto-death campaign at Chennai, Tamil Nadu
"I expect not only solidarity, not only support, not only critiques, but Tamil people all over the world to rise up and participate in the struggle," Thiyagu told TamilNet adding that he has received support from all the Tamil nationalist movements, groups and parties in Tamil Nadu.
"I am not going to give up the struggle because of appeals from the leaders," he was firm. "The life of the Tamil Nation is at a crucial stage now," he said vowing "either success or martyrdom".
Leaders and activists from movements and parties in Tamil Nadu, including the DMK, MDMK, Naam Thamizhar, VCK, TVK, CPI, the student movement, Save Tamils Movement and May 17 Movement, were visiting him to express their solidarity and participation in the struggle.
Thiyagu, whose political origins go back to a militant movement in Tamil Nadu, was attracted by Thileepan's fast-unto-death sacrifice demanding justice from India in 1987 and had established Thileepan Manram in Tamil Nadu.
Demanding New Delhi to deliver on Tamil Nadu State Assembly resolution on international investigations on Sri Lanka, referendum on Tamil Eelam and economic sanctions against Sri Lanka, he has also demanded creation of a paramilitary force of fishermen and training to them to put an end to their continued misery at the hands of the Sri Lankan forces in the Palk Straits.
Thiyagu has also called for an international mechanism to protect the Eezham Tamils from the ongoing structural genocide in their homeland. Another demand is that India should ratify Geneva Convention on Refugees and that the refugees of Tamil Eelam staying in Indian should be given with interim citizenship status in India.
Thiyagu, an activist who has earned reputation for his sharp views, was one of the few in Tamil Nadu to realize the conceptual danger behind the US-tabled resolution in Geneva. Spotting a wrong trend among the Tamil Nadu activists, who were being waylaid by the designs of the Establishments, he contributed to an intellectual discourse that course-corrected the activists of Tamil Nadu at the right time.
The struggle eventually brought forward a resolution in Tamil Nadu State Assembly, unanimously calling for international investigations, demanding a UN referendum among Eelam Tamils on separate Eelam and demanding economic sanctions against Sri Lanka.
India should suspend all assistance, including the offer to give war ships, arms, and training programs that are already being offered to Sri Lankan forces in Indian soil; New Delhi should retrieve Kachchatheevu and hand it over to Tamil Nadu; India should free the 7 victims who have spent more than 20 years in jail following the assassination of Rajeev Gandhi and immediate suspension of a proposed under-water electric supply line to Sri Lanka were the other demands put forward by Thoazhar Thiyagu.
TamilNet: 07.10.13 Fast-unto-death activist demands New Delhi to respect TN Assembly, boycott CHOGM
(For updates you can share with your friends, follow TNN on Facebook and Twitter )