Sinhala police officials of the occupying Sri Lankan State are protecting the culprits committing rape and murder of Tamil women, accuse the residents of Puththoor in Valikkaamam East in Jaffna at a protest held on Wednesday following the recent rape and murder of 27-year-old woman, Maithili Amirthalingam, who was recovered dead from a well near her house on 29 October. The SL Police officials was attempting to protect the culprits by stating that the death was caused by drowning and ignoring the medical report of the Judicial Medical Officer at Jaffna Hospital, the family of the victim told TamilNet on Wednesday. Maithili is the second victim subjected to brutal rape and murder within the last one month in Jaffna.
Representatives of women rights group and village-level grassroots organizations also took part in the protest. Similar protests were held recently at Naachchimaar temple and in Ariyaalai, following the brutal murder of a mentally affected woman from Vanni, staying with her relatives in Ariyaalai and was being looked after by the Holy Family Convent in Jaffna.
Maithili was recovered dead from a well, located 800 meters from her house, allegedly after 3 unidentified men took her into their custoday outside her house after making a phone call to her.
The medical inspection by the JMO at Jaffna Hospital has established that the victim's injuries indicated sexual abuse and rape. The villagers also say that there were remains of blood outside the well, which is located near the SL military guarded Puththoor junction on Jaffna – Point Pedro Road.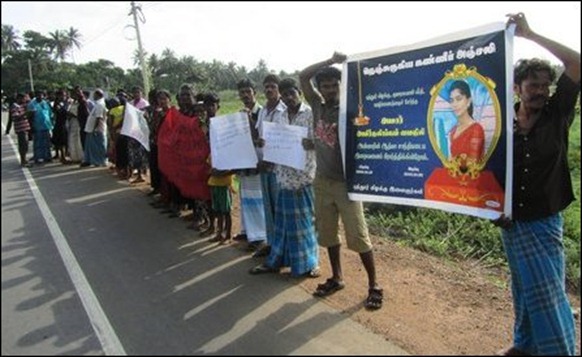 (For updates you can share with your friends, follow TNN on Facebook and Twitter )