The Sri Lankan State through its administration kept the universities across the island closed while the Commonwealth Heads of Government Meeting (CHOGM) took place in Colombo. Except the University of Jaffna, other universities were opened before 02 December. The reason for Colombo instructing its authorities to keep the Jaffna University closed till Monday was to make sure that the students were away from the University premises during the Heroes Day, the university management in Jaffna said. When the university was opened on Monday, the students staged a demonstration inside the premises. Sinhala and Muslim students also took part in the demonstration. Hundreds of riot control police commandos of the occupying Sri Lanka were deployed around the premises.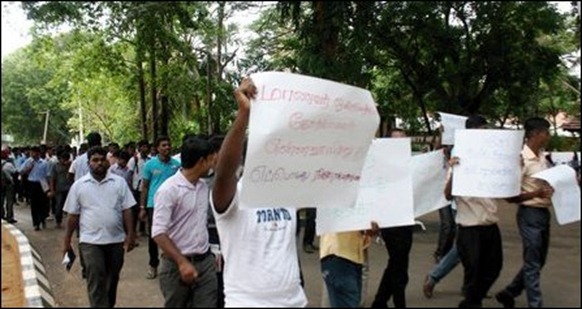 The students also attempted to burn tires outside the main entrance to the University. But, the SL police commandos deployed there blocked the students.
The students gathered in front of the administrative complex, also known as Ramanathan building, marched carrying placards against the discrimination of students in Jaffna.
More than 1,000 students took part in the protest organised by the Jaffna University Students Union.
The University Teachers Union and the association of non-academic staff have also condemned the extended shutdown of the university.
Despite the closure, the act by medical faculty students at the Teaching University premises took the SL military by surprise on Tamil Heroes Day as they lit the flame of sacrifice on top of the tallest building in the Jaffna Hospital.
The students had also managed to light candles in front of the Heroes statue outside Kailasapathy Auditorium on Heroes Day.
Teachers Union at Jaffna University also paid tribute to the fallen Tamil Heroes.
Since 2009, the University student community was fighting for the collective right of remembering those who sacrificed their lives in Tamil struggle.
Last year, the SL military establishment, attacked Jaffna University students at the female hostel while they were observing a memorial event on Heroes Day and the following day, the student community staged a peaceful protest against the brutality of the SL military. Armed military and police commandos attacked the peaceful rally and the student leaders were later forced to turn themselves at the hands of Colombo's Terrorist Investigation Division that sent the student leaders for a prolonged 'military rehabilitation', a move which was vehemently opposed by the University community including the Teachers Union.
This year, the Heroes Day was widely marked by all the students in the peninsula.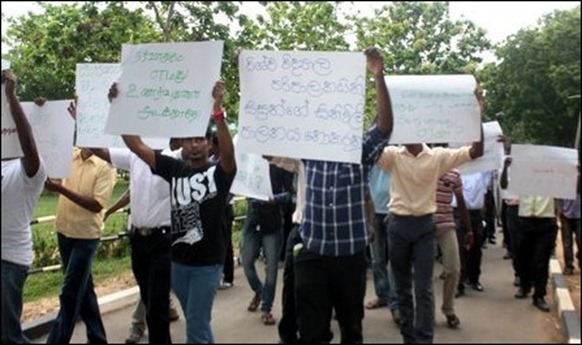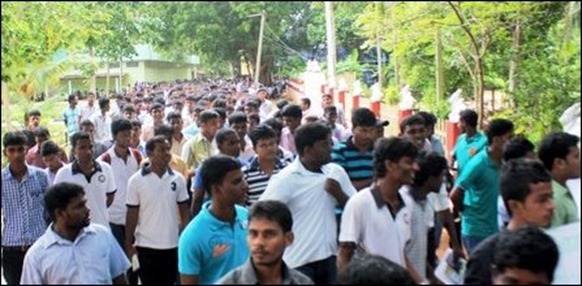 (For updates you can share with your friends, follow TNN on Facebook and Twitter )