Muslims from Ma'richchuk-kaddi village in Musali DS division in Mannaar sat on the Puththa'lam – Mannaar Road at Maraikkaar-theevu on Sunday and demonstrated against Colombo's seizure of their lands including their cemetery. The families, uprooted from Musali in 1990, came to Musali division to resettle from Puththa'lam after Muslim ministers aligned with Colombo government promised them resettlement. Ma'richchuk-kaddi is the border between the Northern and Northwestern Provinces.
The occupying Sri Lanka Navy (SLN) has seized 255 acres of residential and agricultural lands and the Sri Lanka Army (SLA) has taken back 50 acres of lands given back to the 150 families through the divisional secretary.
SL Department of Wildlife Conservation is also involved in the seizure of their lands.
"Do we have to return to Puththa'lam again or do we get our lands back is the question," a Muslim protester told TamilNet.
"We have been living here for around a hundred years, where do we go now," the protester asked.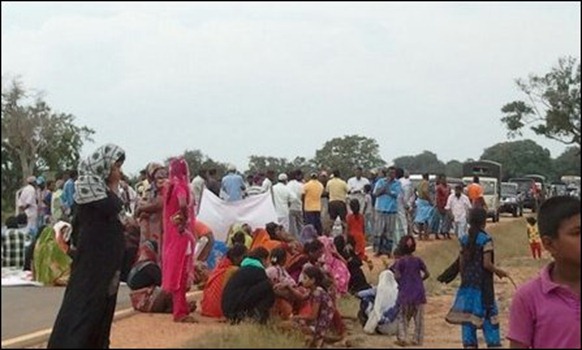 (For updates you can share with your friends, follow TNN on Facebook and Twitter )