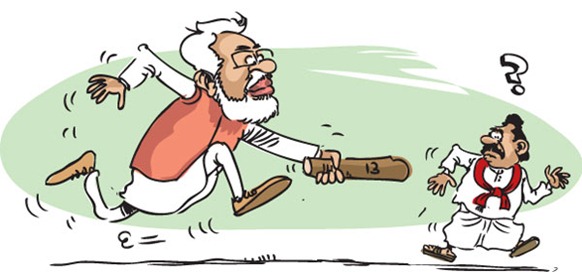 But unlike the press release diplomacy of Sri Lanka's External Affairs Ministry with almost two-thirds of the High Commissioners or Ambassadors being political appointees or diplo-muts, India has a stable national foreign policy that does not change with a change of government.  When Mr. Modi invited South Asian leaders including President Mahinda Rajapaksa for his inauguration ceremony last Monday, hopes of better and closer Indo-Sri Lanka cooperation rose even higher. 
But what happened last Monday and Tuesday has plunged the Rajapaksa government into a deeper crisis. According to the political editor of our sister paper the Sunday Times; Mr. Modi within a day of taking office was fully briefed by India's new External Affairs Minister Sushma Swaraj and the new External Affairs Ministry Secretary Sujatha Singh.
So when Mr. Modi met President Rajapaksa and his delegation on Tuesday he reportedly took a tough line. In international politics, there are no permanent friends but only permanent interests. Mr. Modi insisted that Sri Lanka must act and act fast to fully implement the 13th Amendment plus and even go beyond it. He said the Rajapaksa government had made this commitment to India and it must be implemented.
On two other major problems in Indo-Lanka relations — the fishing dispute in the Palk Strait and the construction of the Sampur coal power plant — Mr. Modi was as tough if not tougher than the Congress-led government. He reportedly insisted that Sri Lanka must fulfill its promise and start work immediately on the controversial Sampur project and President Rajapaksa after he returned to Colombo, is reported to have told officials to expedite the work. On the fishing dispute, where hundreds of Tamil Nadu fishermen are reported to be poaching in Sri Lanka's territorial waters and using dangerous bottom trawling methods to rob millions of dollars' worth of fish, Mr. Modi insisted there should be a just and fair solution for the common good of both countries.
Last Wednesday Senior Minister and House Leader Nimal Siripala de Silva in a statement said Sri Lanka was a sovereign country and no other country had a right to dictate terms to it. But with the powerful and popular Mr. Modi insisting that urgent action be taken to find a political solution and reconciliation essentially through the implementation of the 13th Amendment plus and beyond, the Rajapaksa government is apparently in a tight spot.
Within the ruling UPFA coalition, two influential parties the Jathika Hela Urumaya (JHU) and the National Freedom Front (NFF), are insisting that Sri Lanka should find its own solution and must not allow any external interference by India or even the South African initiative led by the new Deputy President Cyril Ramaphosa.
With the Presidential Election likely to be held early next year, President Mahinda Rajapaksa faces perhaps the biggest challenge of his presidency and we hope he would act wisely in a manner that saves Sri Lanka from falling into a bigger hellhole than that of LTTE terrorism.
(For updates you can share with your friends, follow TNN on Facebook and Twitter )