Tamil National Alliance (TNA) and Tamil National Peoples Front (TNPF) politicians joined a protest held in front of the Mullaiththeevu District Secretariat on Thursday demanding legal hearings into habeas corpus petitions from the families and relatives of persons, who are reported missing after the families had handed them over to the occupying Sri Lankan military during the final days of the genocidal onslaught on Vanni in May 2009. On Thursday, the Sri Lankan military in Mullaiththeevu was blocking the kith and kin of the missing persons from attending the protest, which was led by Ms Ananthy Sasitharan, an elected councillor of the Northern Provincial Council (NPC) who represents the voice of the kith and kin of the missing persons.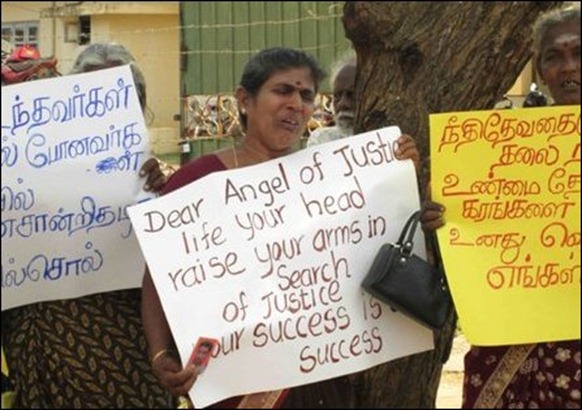 NPC Councillor from Mullaiththeevu Mr T. Ravikaran was earlier arrested and brought to the Mullaiththeevu court by the SL police on the allegation of contempt of court. He was later released and the venue of the protest was shifted to the District Secretariat.
On Wednesday, SL military intelligence operatives had approached the people, offering the families of the missing persons transport facilities to take part in the protest on the following day. On Thursday, the people were taken on board the SL military run buses and were transported to SL military camps, civil sources told TamilNet.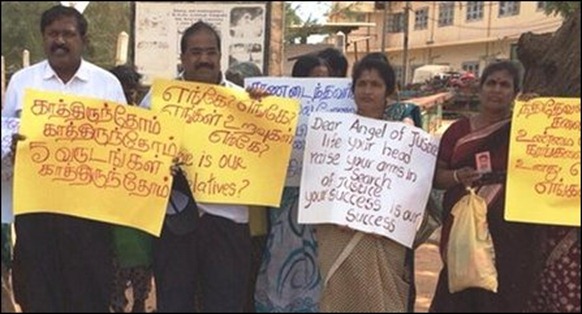 SL military was blocking the people at Keappaapulavu and Mu'l'liyava'lai. Those who managed to reach Mullaiththeevu town were blocked inside their buses by the occupying SL military.
The families of the missing persons had filed writs of habeas corpus on behalf of the victims at the Vavuniyaa High Court. The High Court had instructed the District Court to commence initial investigations. But, there have been no hearings for years, the protesters complained.
It has become almost a practice to indefinitely put off the hearings citing absence of the lawyers as the SL government wanted to drag the process out, they further complained.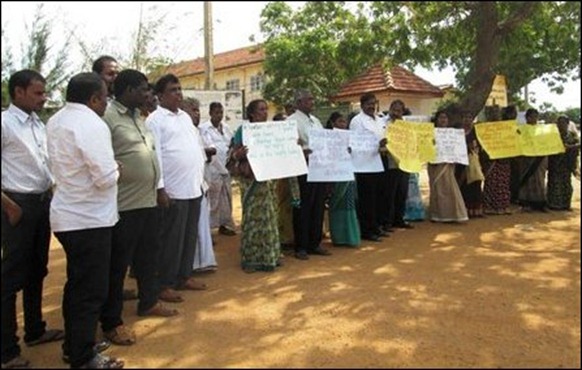 TNA parliamentarian Suresh Premachandran, TNPF leader Gajendrakumar Ponnambalam, NPC councillors T. Ravikaran, M.K. Shivajilingam, Ananthy Sasitharan and Mary Kamala Gunaseelan attended the protest.
Ananthi Sasitharan is the wife of Ezhilan, the former Trincomalee Political Head of the LTTE and a mother of three girls. She personally witnessed Sri Lanka military taking away her husband at the end the Vanni War in May 2009.
The SL State is still refusing to reveal the fate of those who were filtered away from the civilians and taken into buses to undisclosed detention camps.
(For updates you can share with your friends, follow TNN on Facebook and Twitter )