Indian External Affairs Minister Sushma Swaraj told a visiting delegation of Sri Lankan Tamil Members of Parliament on Friday that New Delhi continues to look at the 13th amendment as the framework for a political solution in the island nation.
This was the first engagement of the Tamil National Alliance (TNA) with the new dispensation in New Delhi, though their first interlocutor was an old acquaintance. Swaraj had met with the visiting delegation members in her earlier avatar as the Leader of Opposition, when she led a parliamentary group to the island nation in 2012.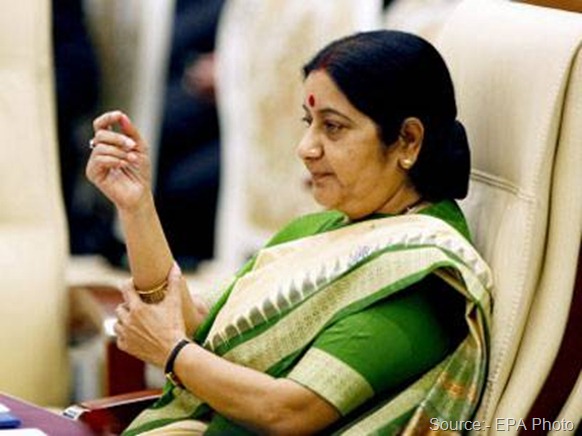 Giving the details of the meeting, spokesperson in the External Affairs Syed Akbaruddin said the 6-member delegation gave a presentation in fairly detailed manner on what they perceive as current situation in Sri Lanka in terms of political environment and their engagement or otherwise with the Sri Lanka government.
During the long meeting in South Block, external affairs minister Sushma Swaraj was basically in listening mode. The TNA delegation informed her in detail how the Northern Province chief minister CV Vigneswaran was unable to function, hemmed in by Colombo-appointed bureaucrats taking all vital decisions.
She conveyed that India was for a "political solution that addresses substantially the aspirations of Tamil community in Sri Lanka for equality, dignity, justice and self-respect within the framework of United Sri Lanka".
The MEA spokesperson said that the 13th amendment "is stemming from India-Sri Lanka accord… That's the framework in which we are working".
There was also discussion of India-assisted development projects, including the massive housing project in north and east. (Indian Express)
(For updates you can share with your friends, follow TNN on Facebook and Twitter )