The Head of the Sri Mangalaramaya Buddhist vihara Venerable Ampitiye Sumanarathana thero has been instrumental in seizing the lands of Eezham Tamils and handing over these lands to Sinhalese from the border villages. When the Tamil land owners complained to the Divisional Secretary of Poaratheevup-pattu (Vellaave'li), the DS accepted their lands have been illegally encroached. But, the Sri Lankan Police at Vellaave'li has refused to accept and act on the complaints by Tamil land owners. The latest seizure of farm lands has taken place at Chinnavaththai village in Vellaave'li division of Paduvaankarai region.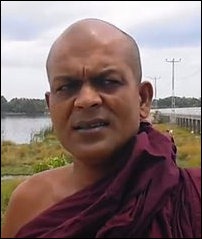 The Sinhala police officers at Vellaave'li have told the Tamil landowners Luxmanan Nagamuthu, Kamalaluxmy Nagamuthu, Rasamany Kathamuthu and Rajaluxmy Kathamuthu that the SL police would not act against Buddhist monks.
The 4 acres of lands have been seized by the local Buddhist monk who has been working closely with Ampitiye Sumanarathana thero from Sri Mangalaramaya Buddhist vihara from Batticaloa city.
The Tamil people have been raising the issue with the Tamil National Alliance (TNA) parliamentarians.
Batticaloa district parliamentarian P. Ariyanethiran said the Buddhist monk has been working full time in seizing the lands of Tamils in the border villages of Ampaa'rai – Batticaloa and Batticaloa – Polonnaruwa for a long time since the end of war. This is nothing else than a systematic genocidal encroachment.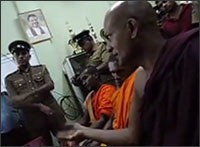 Ampitiye Sumanarathana thero arguing with the DS officer of Paddippazhai, Ms Vilvaratnam in October 2013. Three months later, in December the monk came to the same office and staged a violent scene threatening the DS officer. The SL police has been backing the monk all the way.
The Colombo government boasts about its so-called development and civil administration. The refusal by the SL police to act on the complaint that has also been endorsed by the divisional secretary, who is a government official, is an example how the policy of genocidal land grab is being implemented, he said. He also blamed the Tamil paramilitary cum politicians pre-occupied with safeguarding their deputy minister positions in Rajapaksa's government for abetting the genocidal land grab taking place in Batticaloa district.
In the meantime, Tamil civil sources in Batticaloa told TamilNet that the Buddhist monk from Sri Mangalaramaya vihara has also been capitalising on the existing divisions among the Tamil-speaking people in Batticaloa. Ampitiye Sumanarathana thero has been projecting the Muslims as enemies of both Tamils and Sinhalese in the district, the Tamil civil officials said.
(For updates you can share with your friends, follow TNN on Facebook and Twitter )